When I was still in primary school, I used to play with modelling clay (or better known as Plasticine) I've made a landscape with flowing water (River) and dinosaurs for my school's science project, it's only until a few weeks back a friend of mine show me his work on claymation which inspires me and made me want to try it myself. So I bought 3 pack of modelling clay and using an old web cam, this was the first thing that came up.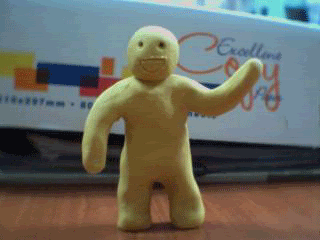 Yay! It's moving! And yes, I know there is no sound (Animated Gif Mah!), will work on that department once I get the hang of this.
First try was a walk in the park, so I decided to try something more challenging, which is to make the clay figure move around more, and this is how it turned out;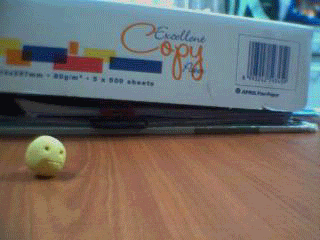 (WARNING! Slow Loading Content)
The result is a 3 mb+ animated Gif of a headless yellow man looking for his head, quite easy to make still there are alot of technics that I had to learn (that means get more clay to play with).
Weeeeeeeeeee.......................!!!!