Somewhere in Endau Rompin National Park, a herd of wild boars quench their thirst by drinking the placid brown water, then quickly disappear back into the green as they heard a disturbance. The rising sun illuminates the landscape giving the river a beautiful glitter. The dark green from the mountains far ahead is covered by a thin layer of mist, one could only wonder what mysteries awaits there. Traveling back downriver, the whirring noise from the boat engine may be annoying but the beauty that's in front of me did what most things or people cannot do. Render me speechless with mind clear only to enjoy the beauty that my eyes could see.
3 months ago, Aurelius proposed the plan to go camping and his location is set for Endau Rompin where we could visit the Buaya Sangkut waterfall which involves 8 hours of hiking, or the blue lagoon and such.
Preparing for the trip is a challenge in itself, firstly I had to do lots of shopping because it's been years since my last camping trip, some of my stuff are either unreliable or missing. When it comes to packing, I needed to make sure I packed everything that I need but still maintain a reasonable weight, I for this I've repacked at least 4 or 5 times, I even measure the weight of all the items I'm bringing. In the end, my pack weights about 18kgs, this does not includes the 3kgs from the tent.
Personally I had 2 units of 6 men tents, these are bulky, heavy and a real killer to bring for this trip, so I decided to look around for a 2 men or 4 men tent, however I ended up borrowing one from a friend (Thanks Kak Nadia). I setup the tent before to trip so that it could air out and I could get an understanding of how the tent is set up in case of sticky situations. it's also to make sure that I have everything in place, it won't be funny if I missed out the rain cover and find out only when I need it.
At 3am people were already starting to gather up at the meet up point in Taman Tun. Final checks were made to ensure we didn't missed anything or anyone. Slightly after 3.30am our bus arrived, we started to load our packs and gears in the bus and be on our way to Kahang... the wrong way.
About 2 hours later the bus stopped at a rest stop, a chance for us to take a leak and stretch our legs. Chris decided to ask the bus driver our current location, that's when some of us started to panic, Chris realized that he's back in his home town, Temeloh. That came clear to us that we are now heading the wrong direction, there seems to be a mis-communication between us and the transportation company, they thought we want to go to Pahang while our actual destination is in Kahang.
We spent the next 30 minutes trying to figure out the best way to take from that point on, personally I have no clue about the directions, the GPS shows that there is a way to go using an old road but it seems that this is not a popular choice, I have no more suggestions to give so I choose to ignore and gave myself a blindfold so that I could go to sleep.
When I woke up we were in Yong Peng, Johor and it's about time for some food, the bus driver drove us to Yuan Yean Fish Ball Eating House for breakfast. We enjoyed the last bowl of luxury as we are not going to get any meals like this for the next few days.
We finally arrived at the Taman Negara Johor Endau Rompin office in Kahang at 12.40pm, we register ourselves and made the necessary payments before loading our stuffs into the jeeps and from there it's another 2+- hours of mud road and oil palm plantation. The road is fine at first even thou it's just some dirt road but it is well maintained by the oil palm plantations, there weren't many holes but when we reach the edge of the plantation the damn potholes started to appear, the 4 jeeps drove on the bumpy road bring the 22 of us to the jetty where we met our guides, the guides got us up on the boats for an hour and a half boat ride up the river, unlike the 4WD ride the boat ride up stream is relaxing, the water is cool and clear, and the scenery is quite something to enjoy.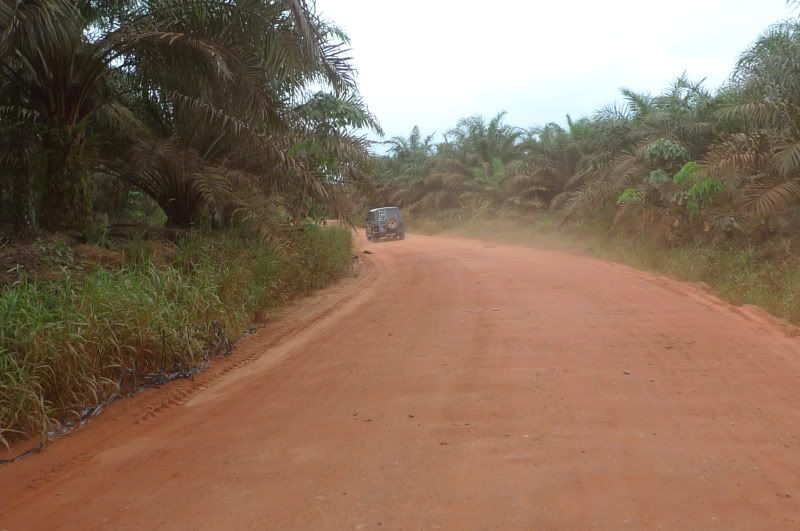 The boat stopped at a river bank for us to unload, there were other visitors there on their way back home. They warn us about the leeches but motivate us by telling us how beautiful the place is. It's a good thing that most of us came prepared with leech socks, but even with that we'll still get a few leeches on us.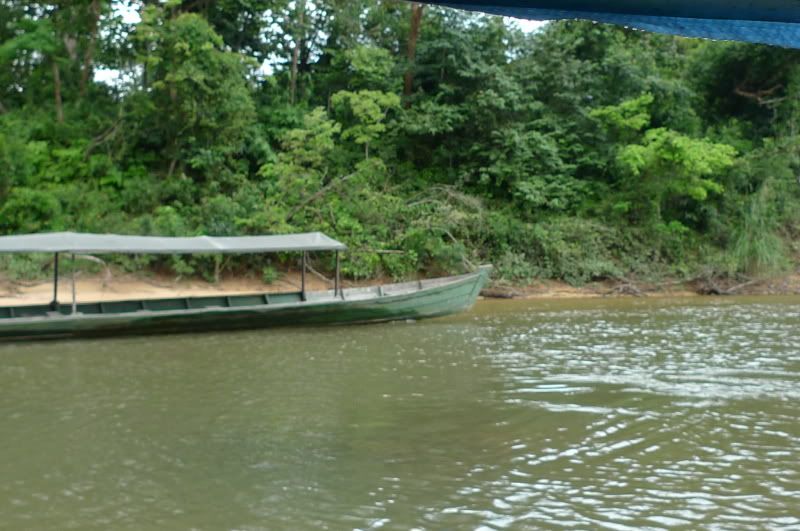 Carrying our gears and backpacks we hiked on to a trail which leads us to a chalet, however this is not our stop, we are here to camp so this doesn't cut it. As we were walking away in to the forest it started to rain, everyone quickly got their rain cover and ponchos on and continue the trek for another hour or so. That hour was one of the toughest hour I been through, with roughly 20kgs on my back and 3kgs in hand I could feel the fatigue kicking in, but there is no way in hell am I going to stop, I kept telling myself that if a man with no legs can managed to summit Everest and if I can't do this, I gotta be the biggest loser there is.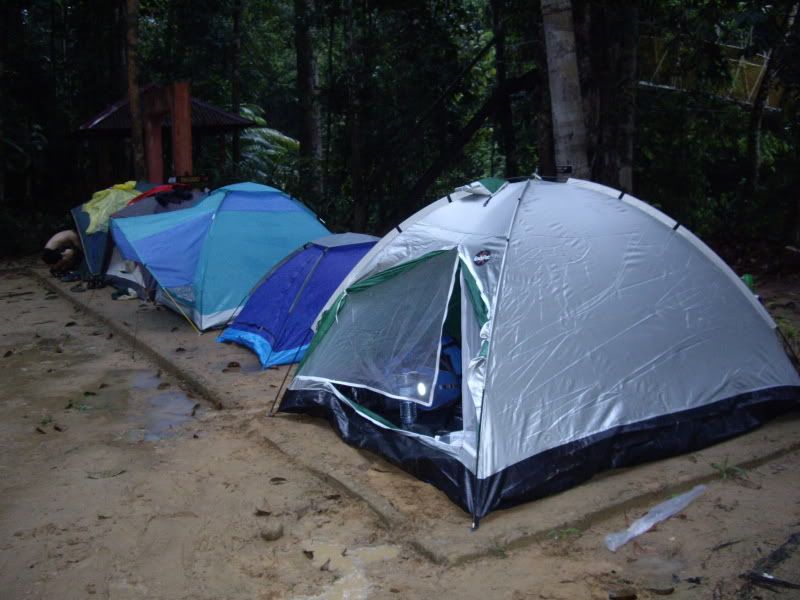 When we finally arrived at the camp site, the first thing we all did is try drying ourselves to no avail, it's the curse of the jungle, once you got something wet it's very hard to get it to dry. It was getting dark at the same time, the tents had to be put up quick before night, we managed that fairly quick took our dinner which consist of what we could bring, it's mainly dried or canned food but at this point on, any food is good food.
To be continue
Have A Great Day
Dennis